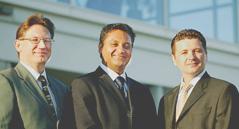 The Stratos consulting team consists entirely of skilled tax professionals. We are highly trained and experienced Chartered Accountants, Chartered Profession Accountants, former government auditors and senior managers. We have all gained our in-depth knowledge through years of hands-on experience in dedicated areas of expertise. Each one of us has also received senior-level project management training to ensure our reviews are effective and efficient.
We work as a team. Together, our knowledge is comprehensive and covers all Canadian and US jurisdictions.
Our tax and financial knowledge is supported by IT specialists who use their proven technical abilities to develop the sophisticated data mining and analysis tools that form an integral part of the Stratos service.
When required, we also draw on our established network of the best consultants and legal experts in their fields to determine the proper interpretation and application of the law. We use this vast expertise to support litigation on your behalf, if required.
Our 3 partners bring combined sales tax experience of over 70 years to support you.
Learn more about our leadership team.